4 best gifts for Dad from Bagsmart Selections
It's still time to prepare special Father's Day gifts since Father's Day is on June 19. It's common for fathers to joke and chat with you freely, but they won't be as direct as they could be when it comes to Father's Day gifts. But you know better because fathers taught you to cherish and celebrate the important people in your lives from a young age. If you're having trouble picking a gift for your dad (after all, he says he has everything), check out Bagsmart's gift guide. These are the best choices whether you're shopping for your father, husband, stepfather, father-in-law, partner, or for yourself. Maybe it's his first Father's Day; maybe it's his 30th or more. Whatever the case, you'll find something from Bagsmart that suits him best.
For Dads who work hard to support the family
The Falco Office Briefcase will be the best companion to bring more convenience between home and office. The generous storage capacity can fit all daily essentials, including laptops up to 15.6", best for Dads who have lots of documents. Features two-way zipper closure for easy access of items. This professional laptop briefcase is also equipped with soft shoulder straps and handles, allowing Dads to carry it by hand or shoulder comfortably,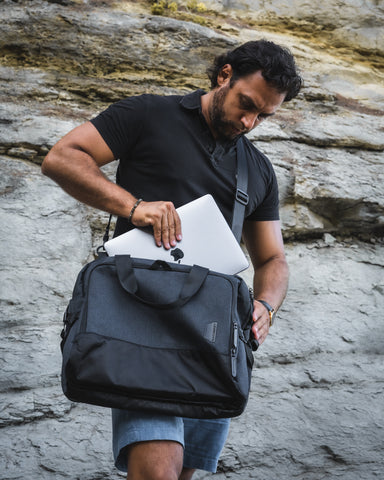 For Dads who are tech fans
A versatile electronic organizer is a good choice to help him organize all digital devices and keep them in order. Imagine the scene where dad is bothered by too many data cables, chargers, or small electronic devices like SD cards, or is anxious because he can't find the electronic objects he wants... We know you don't want your father to worry about this, so gift him a Bagsmart genius electronic organizer! A lot of storage compartments will make it easy to categorize and organize all types of digital devices. Crafted in water-resistant materials, your Dad's digital devices will be protected safely.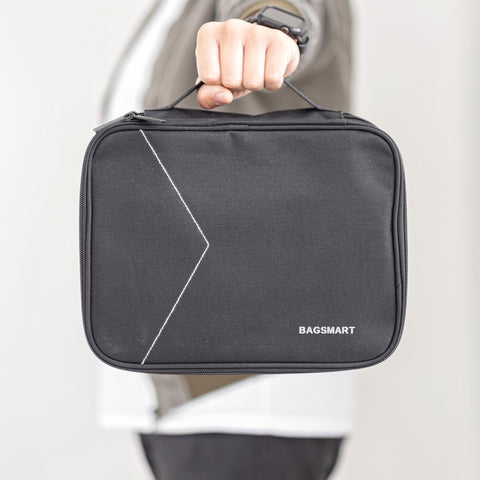 For Dads who are always on a business trip
Make sure your Dad is taking good care of himself when he is in a different city. That's why you must gift him with our toiletry bag. This portable, lightweight travel toiletry bag featuring generous storage capacity will help carry all his hygiene products in order and elevate his travel experience.
People always experience the deepest care in the simplest details; we believe these multifunctional toiletry bags with detailed designs can make your father feel your care and love.
For Dads who love traveling and exploring the world
The adventurous dad will always want to record the beautiful moments during his travels around the world, and in addition to a high-performance camera, a sturdy and convenient camera backpack is equally important. Our camera backpack for travel has a structured silhouette and is crafted in water-resistant materials to protect precious camera equipment. It also has a fast access design for cameras so that your dad won't miss a good shot.
Gift Dad back is meaningful because he is the one who makes us who we are today and enlightens our lives. It's never too late to show how much you love and care for that real superhero in the world with little things but great love.