Bagsmart has launched its summer bags collection that is specifically designed for travel enthusiasts. The collection features a wide range of travel-friendly bags that are perfect for summer trips. Whether you are planning a weekend getaway or a long vacation, Bagsmart's summer bags collection has got you covered.
As the temperature rises and the days get longer, it can only mean one thing – summertime is officially here. With the warmer weather comes a season for outdoor activities, beach trips, and memorable travel adventures. And what better way to kick off your summer plans than with a stylish and functional bag from Bagsmart's summer collection? Here are 4 bags from Bagsmart that have everything you need to make your journey more comfortable, stylish, and organized.
When it comes to summer vacation, this Space Saver toiletry bag will surely fulfill your traveling demands and provide you with a better travel experience throughout your summer vacation. This backpack is ideal for those who enjoy traveling yet are inefficient packers. This bag, in particular, is intended to be more compact and space-efficient, allowing travelers to store their belongings more efficiently. With its numerous compartments and pockets, neat packing has never been easier. Can you imagine a toiletry bag that might involve everything you need for a quick summer excursion, such as food, gum, hair supplies, fidgets, and so on? The other benefit will be its material making. It's made of durable and water-resistant material, so you can use it for years to come.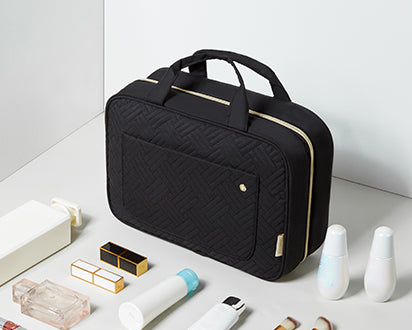 This organizer is ideal for those flying with a carry-on suitcase. It allows you to maximize travel space and keep your clothes, shoes, and accessories organized. It includes a zippered compartment for little items such as socks and underwear, as well as mesh pockets for larger items such as shirts and slacks. This organizer makes packing and unpacking a breeze, allowing you to relax and enjoy your trip. There are also 4- and 6-piece sizes available, depending on whether you want to travel short or long distances this summer. Holidaymakers can have a comfortable and relaxing summer vacation with Bagsmart's high-quality organizers.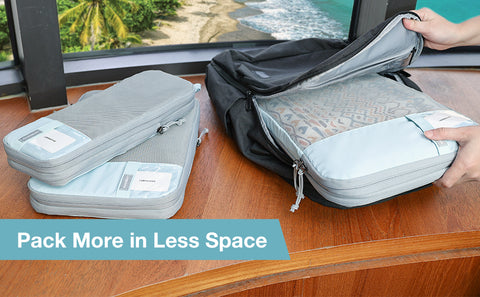 For those who prefer a stylish duffel bag, the Zoraesque Duffel is an excellent choice. It has a sleek and stylish design that will make you stand out. In terms of storage, it has a spacious main compartment and multiple side pockets to store your belongings. The padded shoulder strap ensures you can carry it comfortably, even when it's full. The Zoraesque Duffel is a versatile bag that can be used as a gym bag, weekend bag, or even a carry-on. People enjoy outdoor activities such as camping, hiking, and beach visits throughout the summer. The Bagsmart Zoraesque duffel bag is a great option for these activities because it is built of durable and water-resistant materials, assuring the safety of your possessions in any weather condition. Most significantly, the bag's attractive and trendy appearance makes it a popular choice among fashion-conscious customers who want to look their best while having fun in the rays this summer.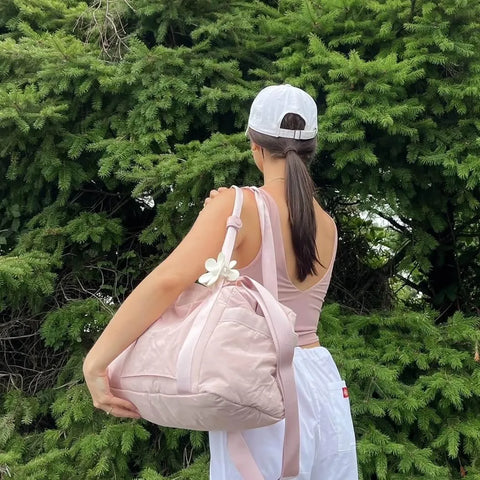 The Motiv 17.3-inch Rolling Laptop Suitcase is perfect for individuals who need to take along their laptops. It contains a dedicated area for laptops up to 17.3 inches in size, as well as various compartments for accessories like chargers and wires. Furthermore, the sturdy material ensures that your laptop is safe throughout transit. It's easy to move through airports, railway stations, and other travel places thanks to the retractable handle and smooth-rolling wheels. In the summer, choosing the Motiv 17.3-inch rolling laptop suitcase from Bagsmart gives customers a comfortable, secure, and fashionable luggage bag for their travels. If you're considering an international trip this summer, grab this dependable rolling suitcase.
Bagsmart's summer collection has a wide variety of bags to choose from, all of which are designed to make summer travel easier and more enjoyable. Whether you're packing light or traveling with all the essentials, Bagsmart has a bag that is perfect for you. So why wait? Kick off your summer travel plans with Bagsmart today!