Find tote bag nirvana: a versatile carryall that transforms effortlessly from workhorse to weekend soulmate. The perfect bag for work-life harmony satisfies the needs for organized productivity and relaxed escapism. Assessing key features- beyond looks -reveals your purse chameleon: spacious-yet-streamlined dimensions, compartments pleasing both personas, and durable-yet-lightweight material.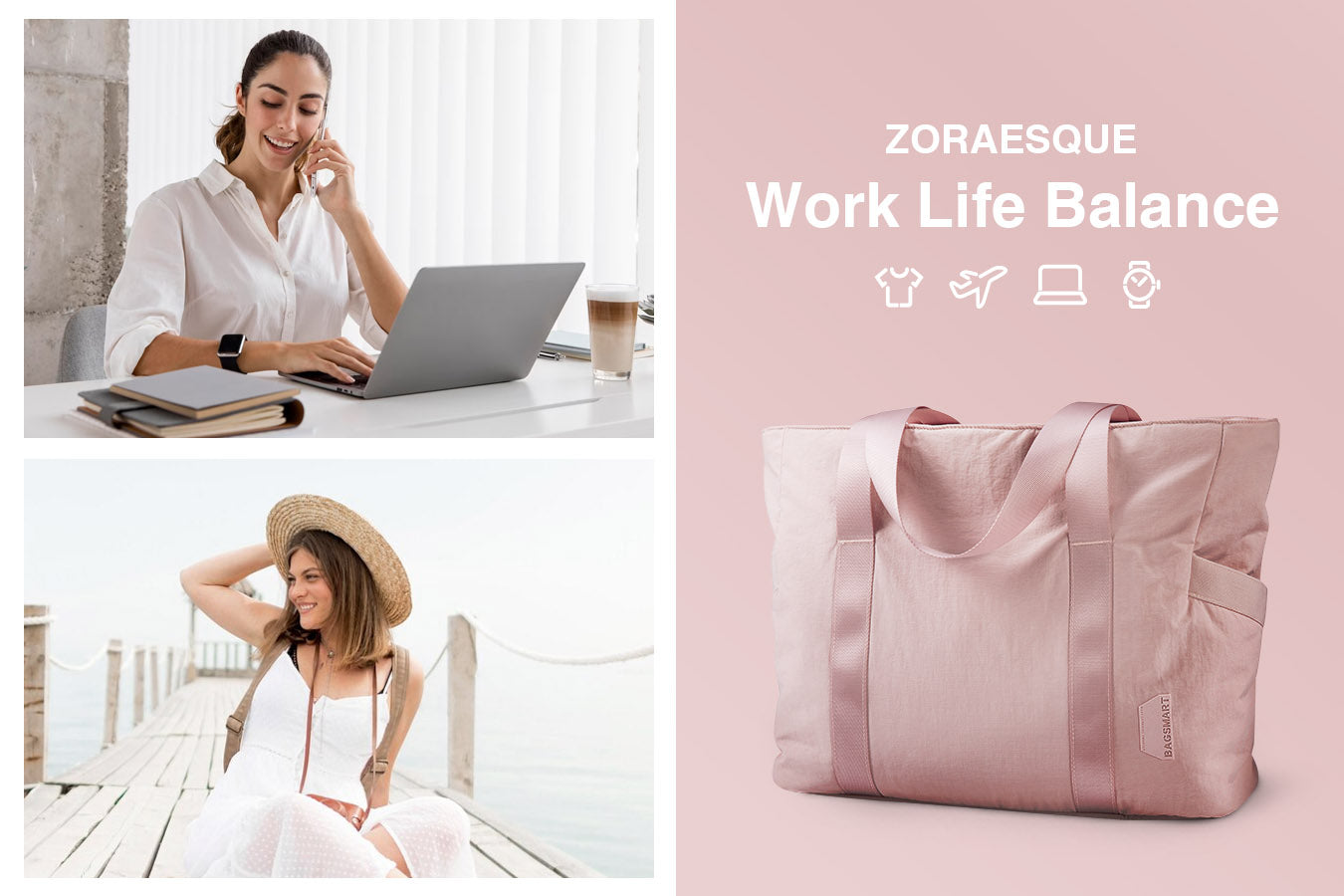 Are you ready to seek your perfect handbag hybrid, able to instantly shift from tasks to leisure? Let's discover how to find your work-play purse soulmate! Here are some factors you need to consider when you choose a perfect tote for work and play:
Size
that accommodates both work and leisure needs is 15 to 20 inches long, 10 to 12 inches tall, and 8 to 9 inches wide. This "in-between" size offers the following benefits: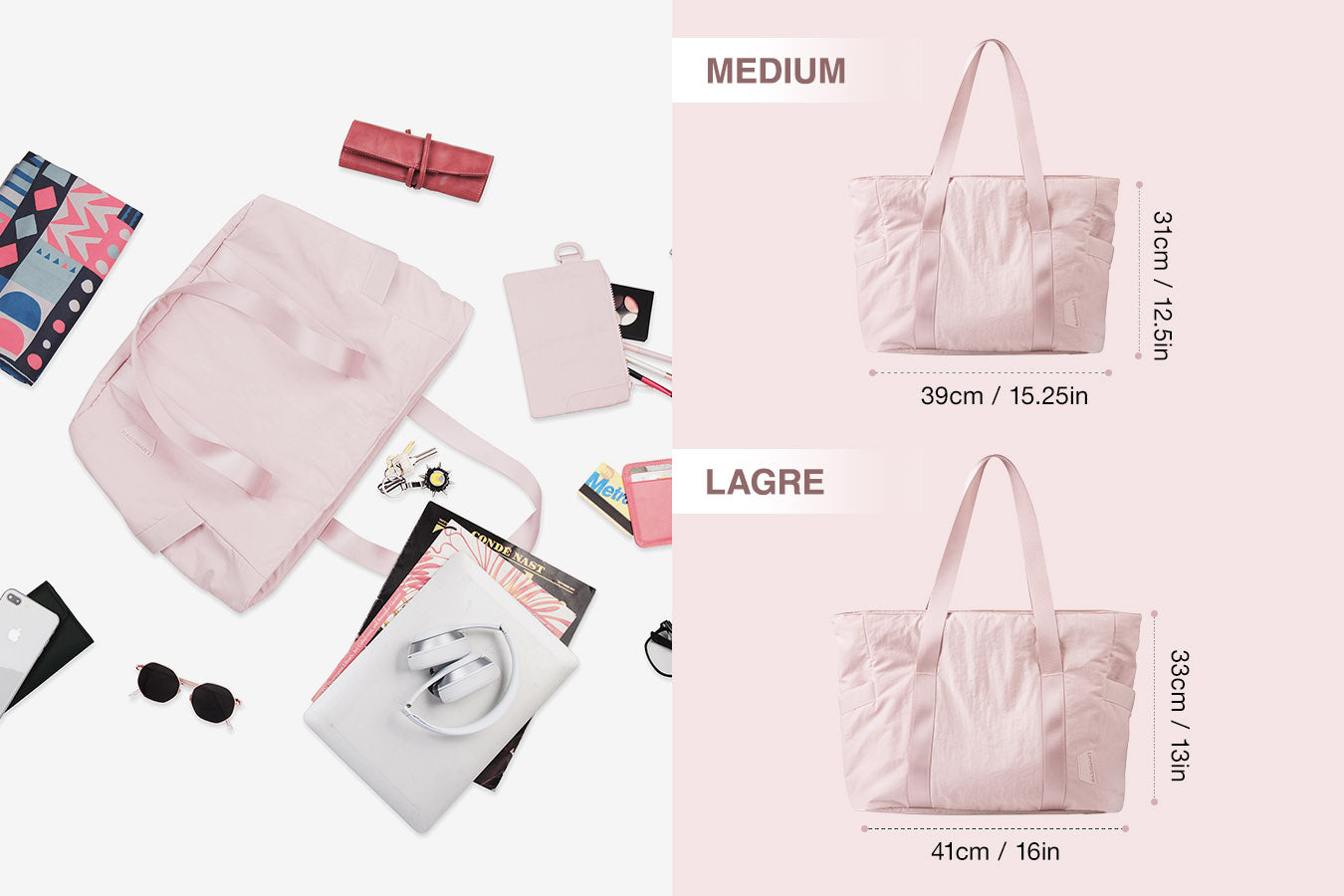 For work:
Fits legal folders, most documents, and up to a 15.6-inch laptop plus chargers.

Holds standard notebooks and portfolios without being overly bulky.

Allows room for a couple of outer pockets and inner dividers to organize work items.

Stays lightweight at around 1.5 to 2.5 pounds when empty for comfortable carrying all day.
For leisure:
Fits travel necessities like magazines, footwear, sunglasses, and electronics.

Leaves enough space for casual essentials like a paperback book, sandwich, and water bottle.

Remains portable enough to bring along for weekend errands and day trips.

Lightweight fabric of 1 to 2 pounds when empty is easy to carry for long periods.
Material
The ideal fabric for a versatile tote bag that serves both work and leisure needs should be:
Durable - The fabric must withstand daily use in an office environment with abrasion resistance and spill resistance to protect contents from damage.

Water resistant - The material should repel light rain and moisture to keep work essentials and personal items safe during daily commutes and weekend trips alike.

Easy to clean - Stains and spills will inevitably occur, so the bag fabric must be machine washable or easily wiped clean with a damp cloth.

Lightweight - Though work items may weigh the bag down at times, the material itself should be lightweight for easy carrying during hours of use at the office and on weekends.

Breathable - The interior lining especially should allow air circulation to avoid the accumulation of moisture and odors from items stored inside over longer periods of time.

Waxed or laminated - Coatings on the fabric help improve water resistance, stain release, and longevity of the material through frequent use for both work and play.
Compartments
The following are characteristics of the perfect straps for a multipurpose tote bag that can accommodate items for both work and play: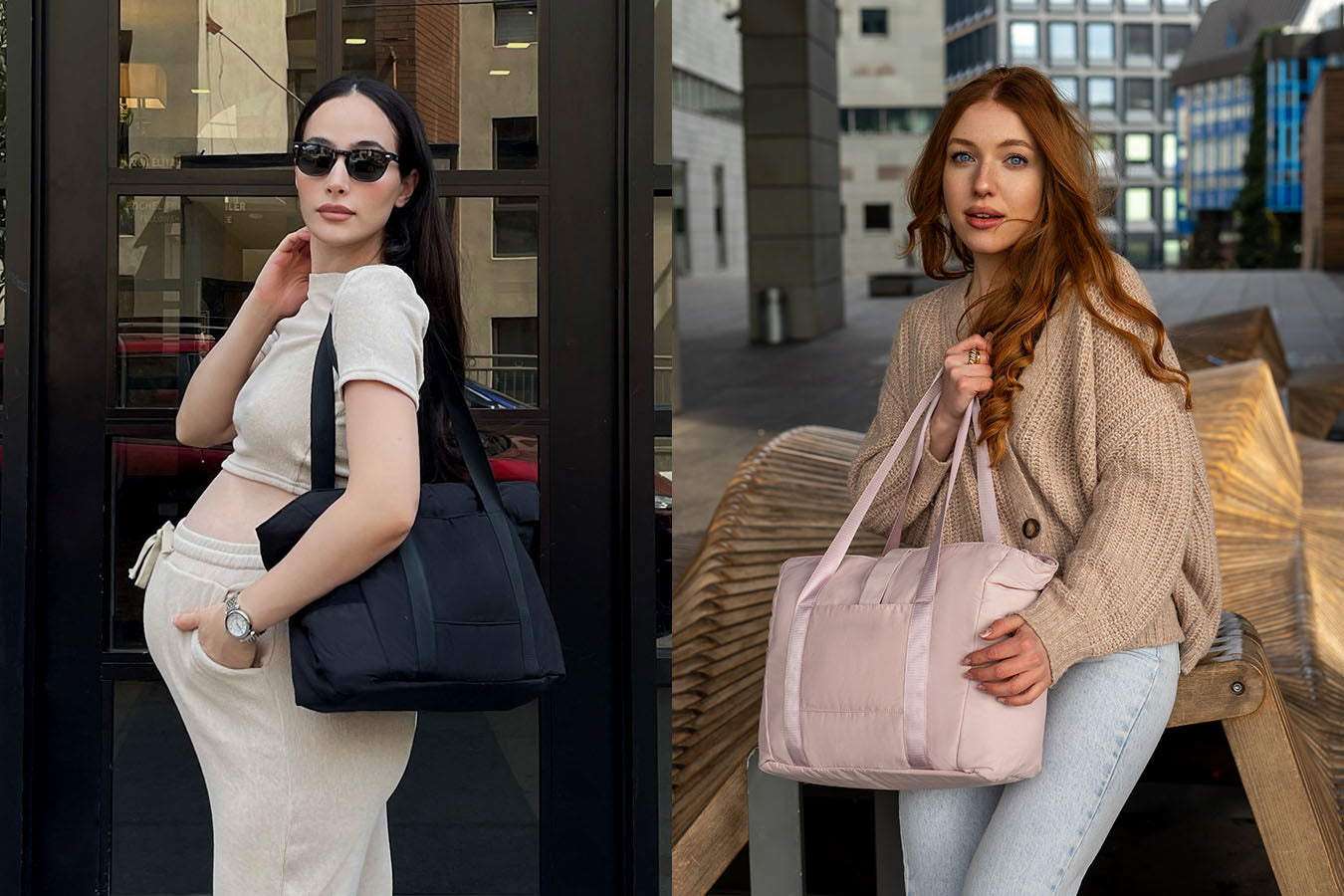 Be wide and padded to comfortably distribute the weight of work essentials like laptops, files, and notebooks carried throughout the day.

Include a sufficient shoulder drop between 12 to 15 inches for balanced carrying over one shoulder during long days at the office.

Be sufficiently adjustable to tighten the straps and secure heavier workloads or loosen t for lightweight leisure uses.

Transform from single-shoulder carry during work use to a crossbody or double-shoulder wearing on weekends for hands-free comfort while traveling or running weekend errands.

Feature leather, woven or textile materials that complement both business and casual outfit options.

Offer the choice of detachable, adjustable straps for fully transforming the tote into a clutch or wallet-on-a-chain for evenings out after work or weekends away.
Closure
The perfect closure for a tote bag that can be used for both work and play should include the following features:
Zip-top closures, especially with covered zippers for added security, protection from elements, and convenience in opening/closing swiftly as needed during the workday or on weekends.

Magnetic snap closures, providing adequate security for work essentials while allowing quick, hassle-free access to leisure items. The snap fasteners ensure contents remain organized inside the spacious interior.
Color & Pattern
The following color combinations are perfect for a multipurpose tote bag that can be used for both work and play:
Bright
Pink

- A pale to bright pink bag embodies femininity, warmth, and romance. Pink brings to mind feelings of comfort, friendliness, and joy that are suitable for both professional and casual contexts. The cheerful shade complements both work attire and outfits for leisure.

Flower Patterns

- Patterns of flowers like sunflowers and passiflora can evoke feelings of joy, creativity, and passion for both work and leisure. A floral print can complement various casual outfits, from denim to sundresses.

Blue

- Bright blue connotes life, energy, and vibrancy. The vivid hue stimulates feelings of enthusiasm and excitement that transition smoothly from desk to diverse activities. Bright blue seamlessly coordinates with a range of formal business clothing as well as casual attire.
Neutral
Black

- A work essential that pairs with all business look yet adds edge for weekends. Transitions easily from the office to the evening without drawing attention, making it the chameleon of handbag colors, versatile for any occasion.

Navy

- A zesty alternative to classic black, complementing both tailored suits and beachy dresses. It pairs well with gray, white, and jewel tones all week long.

Gray

- The understated tone exudes professionalism, simplicity, and efficiency, projecting maturity, reliability, and focus. The neutral hue goes well with plain and patterned outfits for work and for dressing down.
Conclusion
In conclusion, by optimizing dimensions, choosing durable yet lightweight materials, incorporating pockets tailored to workweek organization versus weekend ease, and selecting straps that distribute laborious loads but adjust for leisurely lounging, any trusty tote can transform into a chameleon carryall. Craft the perfect purse pal, tailored perfectly to whether productivity beckons or play calls your name!
Read More