With the holiday season on its way, chances are you're looking forward to a special getaway. But while exciting, it can be nerve-wracking venturing away from your regular routine! Make sure you take along some of home's comforts though with this bestseller Bagsmart bag - designed for all those must-have beauty products and recommended by hundreds online who give it five stars. Get ready to enjoy both that upcoming adventure – and feeling right at home!
Get the ultimate in packing convenience with Bagsmart Bonchemin Large-Hanging Travel Makeup Organizer. Its smart design unrolls to offer generous storage for all of your toiletries and cosmetics, plus an additional clear bag that's TSA approved so you can breeze through airport security. Measuring 18.5 x 12.6 x 6 inches when closed, this handy organizer is perfect for multi-day holidays!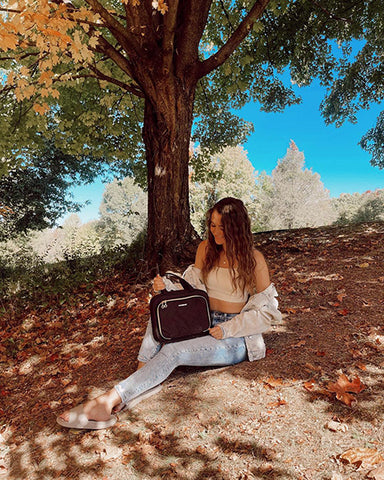 "Traveling with this versatile toiletry bag is not only a breeze but an absolute joy!" Reviewers rave about its numerous compartments and the handy accompanying clear cosmetic pouch. Many five-star reviewers even hung it in their bathroom when returning from their trip—just to show how much they love it! "With ample space yet easy zipping, you'll never want another travel essential again.", another shopper said.
This bag's exterior is water-resistant, and the functional interior is what makes it worth every penny. Keep your smaller items safe and easily accessible in its top compartment with clear pockets - perfect for bandages, medicines, and more! Then go bigger inside two middle compartments filled with plenty of space to store full bottles – secured snugly by elastic straps. And don't forget about that large pocket on the bottom; just right for makeup brushes or other essentials. Plus, the 360-degree hanger makes taking this stylish storage solution anywhere a cinch!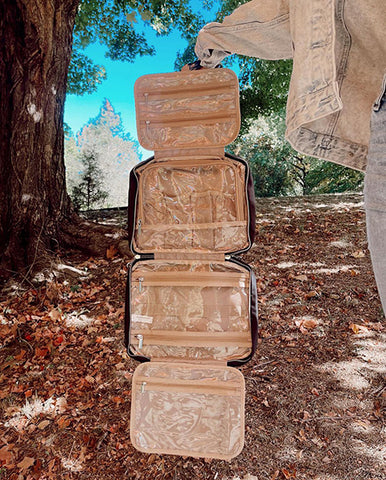 "I love this toiletry bag. It has plenty of space as described. The outside fabric feels water resistant more so than waterproof which was not what I expected but is still a durable and functional bag. Highly recommend!", said one customer who loves so much the functionality of this toiletry bag. "I went to the academy and absolutely love this thing. It kept all my stuff nice n it was see-through so I didn't have to pull everything out to be inspected. It hung nicely on the shower so I had my stuff right there. It saved me was such a great thing to have." Other customers loved the transparent windows. The ingenious transparent plastic window of the toiletry bag offers great convenience, allowing you to easily identify your desired hygiene or cosmetics item. And when it gets a bit messy, merely wipe away any residue for effortless maintenance!
Some may need a toiletry bag that can take the rigors of travel and protect their essential items. Well, our toiletry bag can meet their demands too! It is crafted with premium quality materials, this durable solution is sure to stand the test of time and provide secure storage for all of your must-have toiletries, from toothbrushes to moisturizers, for long-lasting security - because only the very best should accompany you along the way! Besides, the inner hook is tested to holp up to 3 kg.
"This bag is sturdy, pretty, and very useful on my last vacation." Said more than one customer. An authentic proof that our Bonchemin Large-Hanging Travel Makeup Organizer can be your best companion on the adventure ahead.
In the meantime, this toiletry bag is also perfect for women on the go: Experience luxurious comfort as she goes about their daily life! This quilted design on the surface provides a soft and breathable accompaniment for any journey so that wherever she goes, itching or red spots don't have to follow. Relax - let simply happy coziness indulge in sumptuous ease.
For creative, independent women who want to express their exceptional fashion and style ideas in a unique way – our minimalist toiletry bag is the perfect companion! Unlock your true potential with incredible flexibility that allows you to speak volumes about yourself.
This versatile toiletry bag is also an ideal accessory for women all year round and is available in a spectrum of captivating shades. For those who prefer subtle elegance - black and grey are perfect choices; while pink exudes feminine poise! If you're looking to spice things up with more vibrant hues such as yellow or teal – we have got your style covered too!
The Bonchemin Large-Hanging Travel Makeup Organizer is an essential item for anyone who travels frequently or wants an easy way to organize their bathroom items at home. Its compact yet spacious design allows you to store all of your necessities while still keeping it light enough to carry around wherever you go! And its high-quality polyester fabric ensures durability while still looking stylish no matter where you take it. So if you're looking for a convenient way to keep your belongings organized while traveling or at home, look no further than this amazing toiletry bag from Bagsmart – it truly is simply the best!