As a new academic year kicks off, students need tools combining style, practicality, and efficiency. Our curated back-to-school gifts list, featuring everything from educational tools to trendy carriers, aims to foster creativity, amplify productivity, and infuse a passion for learning. From facilitating smoother study routines to making travel between classes a breeze, this list is sure to cater to any student's needs. Let's delve in and discover how these gifts can transform the upcoming school year! 
Laptop Backpack: Chic Carrier for Student Life
Imagine a typical day in the life of a student. It's early morning and time to rush off to class - and not without their laptop, safely tucked in the tech-friendly compartment of the backpack. Throughout the day, whether they're studying at the library, jotting down notes during lectures, or collaborating on group projects at a local cafe, this backpack is a constant, reliable companion. 
Designed for Supreme Comfort: Despite the substantial space it offers, the backpack weighs only about 1.7 lbs. And ergonomically designed shoulder straps and a breathable mesh back panel make the act of carrying heavy loads less burdensome.
Ingenious Security Features: The backpack is engineered with the urban scholar in mind. Its innovative anti-theft zippers and cleverly concealed pocket at the back create an impenetrable fortress for your prized possessions.
Smart Tech Integration: The backpack embraces technological advancements in its design. An integral USB charging port, coupled with an internal charging cable, turns this bag into a mobile power hub. Moreover, the easy access to earphone usage allows for seamless transitions between your favorite podcast, lecture recordings, or music without missing a beat.
Practical Compartments: This backpack goes beyond mere storage; it also organizes. With side pockets designed specifically for water bottles or umbrellas, hydration, and weather preparedness are always within arm's reach.
Durability and Ease of Maintenance: Constructed from robust, quilted polyester fabric, this backpack is designed to stand the test of time. The resilient nature of its material, coupled with high craftsmanship, ensures it can endure daily wear and tear.
Looking for affordable quality in a bag? Look no further than our online store. We've curated a selection of bags that blend high-quality materials with functional design. Our bags are priced sensibly with great value considering their quality and versatility, making them an economical choice for everyone. And here's the icing on the cake - we're offering an additional 10% discount for the back-to-school season, making it an even more attractive investment for students or gift-givers.
The Perfect Pair: Laptop Bag & Lunch Bag Bundle
Envision an energetic learner navigating through their day with the indispensable duo - the Laptop Bag & Lunch Bag Bundle. The laptop bag, with thoughtful compartments, effortlessly accommodates all scholarly essentials, while its padded straps and airy back panel ensure comfort on busy commutes. At mealtime, the lunch bag's superior insulation keeps food fresh until the last bite. Stylish, practical, and ideal for back-to-school gifting, this bundle perfectly balances academic and nutritional needs.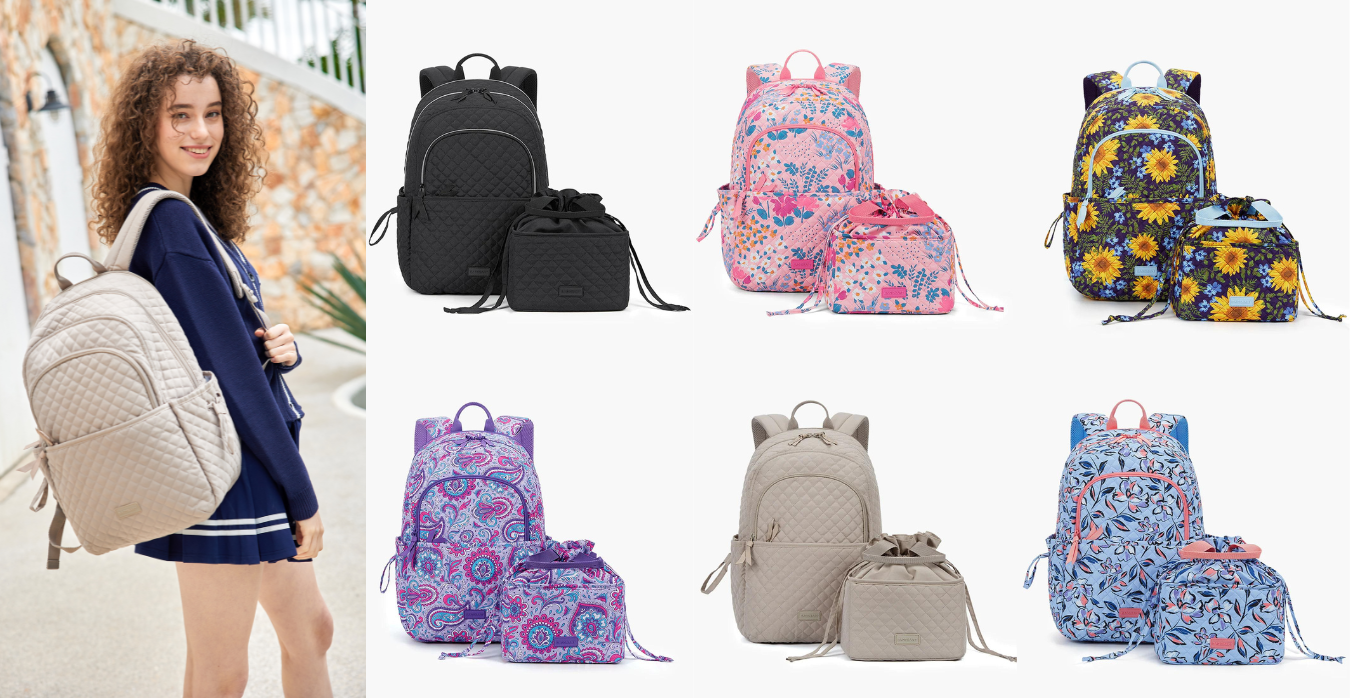 Smart Organization: Packaging has never been more efficient with its spacious main compartment and several organizational pockets. In this way, you can fit in everything from books to stationery to your favorite tech gadgets without hassle.
Quintessential Design: The backpack caters to diverse style preferences with an array of designs. From the vibrant blooms of 'Sunflower Rhapsody,' the soft hues of 'Pastel Garden,' the abstract patterns of 'Wind O'Cosmos,' to the tropical motifs in 'Passiflora Paisley,' there's something for everyone. For those who prefer simplicity, solid grey and black options provide a classic, understated look. Each design adds a distinct touch of elegance and personality to your everyday school ensemble, ensuring you stand out.
Meal Preserving: The lunch bag maintains food temperature for up to 3 hours, ensuring your meals taste as fresh as they were packed. Plus, it's prepped with food-safe EVA linings, providing a clean and safe experience.
Maintenance Made Easy: Made from sleek and lightweight polyester, they deliver both durability and style. An added bonus? They're machine-washable, making upkeep as simple as possible.
Choosing this Laptop Bag & Lunch Bag Bundle as a back-to-school gift will take care of not only students' academic needs but also their nutritional ones. The modern design, smart organization features, and food-friendly materials make it an unbeatable combination of style and functionality. Whether it's carrying heavy textbooks or keeping the lunch warm till noon, this dynamic duo got it all covered!
Suitcase: Trusted Companion of Students
Start the school year on a high note and set your student up for global success with the ultimate back-to-school gift - the Globetrotter 21" Hardside Rolling Carry-On Stylish Suitcase. It's the perfect luggage solution for every student! 
Internationally Stylish: The suitcase's sleek design radiates sophistication, while its lightweight yet sturdy construction assures durability. It's designed to withstand the rigors of student life, from bustling airports to cobblestone streets.
Fortress for Valuables: With its rigid and resilient structure, this suitcase offers unmatched protection for valuable items such as tech gadgets. Students can travel without worrying about their belongings.
Smooth Global Navigator: Thanks to the dual 360° wheel design, navigating through busy international airports, narrow European alleyways, or sprawling university campuses becomes effortless and smooth.
Lightweight & Capacious: Despite offering an impressive capacity of 35 liters, this suitcase weighs just 6.39 lbs., maximizing packing potential without burdening students with extra weight.
Enduring Material: Crafted from 100% polycarbonate fabric, it resists the typical wear and tear of constant travel and student life.
Navigating through new academic pursuits and exciting cultural experiences is challenging, but with the Globetrotter 21" Hardside Rolling Carry-On Stylish Suitcase, your student will be ready to conquer the world. This suitcase doubles as a mobile study station, becoming a globe-trotting student's best friend. Whether they're flying off for a semester abroad or heading to an international conference, it accommodates all essentials - textbooks, laptops, outfits, and more, catering to trips ranging from 3 to 5 days!
Multifunctional Tote Bag: Blending Elegance with Practicality
As the academic tide shifts towards a fresh new year, a Multifunctional Tote Bag stands ready to deliver style and practicality to students' daily lives. It provides more than just a fashionable edge; it's a thoughtfully designed companion for every student's needs. With generous space for laptops, books, and other essentials, organized compartments, and an open-top design for swift access, a tote bag makes for a perfect match to the dynamic, multifaceted lifestyle of present-day learners - be it in a lively lecture hall or amidst the serenity of library shelves.
Practical & Trendy: Tote bags are a stylish alternative to traditional backpacks, merging fashion-forward design with functionality. They are versatile and can be paired with almost any outfit, making them a trendy accessory for various occasions.
Comfortable Carrying: With their ergonomic design, tote bags ensure a comfortable carrying experience. Whether for everyday errands or as a stylish workbag holding laptops and books, the balanced weight distribution prevents strain on your shoulders and makes transportation a breeze.
Convenient Access: One significant advantage of tote bags is their open-top design enabling convenient access to your essentials. No more fumbling around to locate your keys or phone; everything is just a quick reach away. This ease of access, combined with a chic design, makes it a practical companion for various occasions.
Expansive and Organized Compartments: Tote bags, with their generous size and partitioned compartments, offer superior organization. These bags can comfortably house laptops, books, and everyday essentials, while still leaving space for impromptu purchases or an extra layer of clothing for cooler evenings.
Reliable Storage for Tech Gadgets: For those who are tech-adept, tote bags serve as a trustworthy choice for securely transporting devices. The bag's specialized, cushioned compartment caters perfectly to laptops and tablets, ensuring your valuable technology remains unscathed during travel.
Featherweight but Spacious: Despite their capacious interiors, tote bags impress with their remarkably lightweight design. Constructed from nylon fabric, these bags have a light base weight, facilitating easy portability. They deliver spaciousness without the hefty weight, achieving an ideal equilibrium.
Resilient Fabric: Nylon-made tote bags are synonymous with durability. They can withstand rough handling and adverse conditions, resisting wear and tear. This ensures that the bag retains its quality and style over a prolonged period. It's not just a stylish gift - it's also one that stands the test of time.
Are you searching for a back-to-school present that combines cutting-edge style with practical utility? Look no further than the Multifunctional Tote Bag. Its modern and trendy design brings a fashionable edge to any outfit, helping the carrier to stand out. More than just a chic accessory, this tote bag offers organizational benefits and ease of carrying, simplifying regular routines and adding value to daily life.
Kindle: An Educational Powerhouse
Now that we've extensively discussed the charm and practicality of backpacks, suitcases, and bags, let's shift our attention to the exciting possibilities of what could go inside the bags - starting with the versatile and educational tool, the Kindle. More than an e-reader, the Kindle is a comprehensive educational tool that revolutionized learning and a vast reservoir of knowledge at their fingertips, negating the need to carry heavy textbooks.
Compact Design: The Kindle is a mini-library that fits perfectly in your palm and slips easily into a tote bag. Its lightweight and compact design makes it an ideal companion for students on the go.
Storage Powerhouse: Be aware of its size! The Kindle can store thousands of books, providing a vast reservoir of knowledge at your fingertips. The Kindle has space for all, whether it's textbooks, thrillers, or science fiction.
Adjustable Backlight: Say goodbye to strained eyes! With an adjustable backlight, the Kindle ensures comfortable reading, whether under the harsh sun or tucked up in bed late at night. Students can now study or read anytime, anywhere, without discomfort.
Gifting a Kindle is like gifting an entire library that supports tailored learning experiences while being environmentally friendly. Couple it with the trendy tote bag or backpack, and you've got a back-to-school, stylish, and educationally valuable gift.
Durable Water Bottles for Students
Hydration is a critical component of a student's health and academic performance. It boosts concentration, aids cognitive function, and ensures overall physical well-being. In the hustle and bustle of school life, it's easy to forget to drink enough water. Here's where gifting a durable water bottle can make a significant difference. 
Aside from encouraging regular hydration and promoting health, a reusable water bottle is a year-round utility item with immense value. This enduring companion makes the perfect addition to our back-to-school gift set: when tucked in a trendy tote bag or backpack; it creates an ideal blend of style, health, education, and sustainability. This compact but powerful trifecta of gifts considers the student's practical needs while contributing significantly to their academic journey. It's the kind of thoughtful combination any student would appreciate.
So, let's take that refreshing step forward! Empower your student with this considerate gift, and let's make a positive impact together – one water bottle, one bag, and one Kindle at a time. After all, the journey toward academic success is always easier when we're properly equipped, hydrated, and inspired!
Notebooks, Folders, and Binder: Navigating Academia with Ease
Prepare students for their academic journey with the power trio - notebooks, folders, and binders. More than just school supplies, they're life-organizing warriors that tackle the chaos of bustling student life. 
Notebooks: Every notebook is designed to be a reliable tool for students. They can record thoughts, jot down assignments, and write complex classroom theories.
Folders: Designed to keep important documents protected and organized. They allow students to sort their papers by class or subject matter, making it easy to locate any document when needed.
Binders: A comprehensive solution for storing and organizing various subject materials. They simplify study sessions by keeping all notes and resources together, acting as a personal, customizable resource center.
Now, where to store these academic allies? That's where backpacks, suitcases, and tote bags come in. These stylish yet functional carriers ensure your student's essentials are securely packed and easily transported, completing the ensemble of perfect back-to-school gifting.
Conclusion
As we conclude our exploration of back-to-school gifts, it's evident that each item, from the stylish backpacks to the handy Kindle, contributes uniquely to a student's life. Not merely objects, these gifts are extensions of a student's academia, making their daily routine more efficient, organized, and enjoyable.
Be it a laptop backpack for carrying ease, a lunch bag bundle to ensure nutrition, a suitcase for international adventures, or a tote bag marrying style with function - each gift has its distinct role. As we head into the fall season, keep in mind that the most cherished gifts are those that enrich daily experiences. Here's to mindful shopping that can lead to a fruitful, well-organized, and joyous academic year!
Read More